News
Older adults with headaches benefit from physical therapy treatment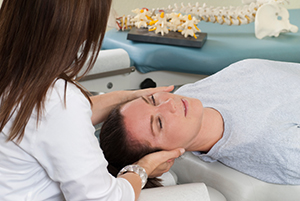 Neck pain associated with headaches is more common in older age
Headaches can be a problem for just about anyone, but they affect people of different ages in unique ways. Secondary headaches, which are headaches influenced by other areas of the body—like the neck—and associated neck pain become more common with older age. For older adults, secondary headaches—in which the cause of the pain is from something other than the headache itself—and associated neck pain both become more common as the person ages. Many of these older adults with headaches and neck pain also experience neck dysfunction, which can be very bothersome and prevent them from functioning normally. It's also possible that this neck pain and dysfunction might actually be the source of these headaches, which highlights why it's so important to address these issues. There are many treatments available for headaches and associated neck pain and dysfunction, but it's not completely clear which is most effective for older adults. Physical therapy is generally considered a safe and effective treatment option, but more research is needed to study how far its benefits go. Therefore, a powerful study called a randomized-controlled trial (RCT) was conducted to evaluate the effectiveness of physical therapy for older adults with headaches and associated neck pain and dysfunction. RCTs randomly place participants in different treatment groups and are highly regarded as idealized study designs.
65 patients between ages 50-75 complete the study
Adults between the ages of 50-75 years old with recurrent headaches and associated neck pain and dysfunction were invited to participate in the RCT. A total of 65 fit the necessary criteria for the study and were randomly assigned to one of two treatment groups: the physical therapy group and usual care group. Participants in the physical therapy group attended 14 individual treatment sessions over 10 weeks, each of which lasted for 45 minutes. These sessions included a combination of hands-on treatments performed by the physical therapist and a variety of exercises that targeted the muscles in and around the neck. Participants in this group were also instructed to perform their exercises once daily without aggravating pain and to keep an exercise and headache diary to monitor their condition. Individuals in the usual care group were asked to continue with their medication and pursue any other treatments for their condition, so long as it did not include physical therapy. All participants were evaluated before treatment began and then again 11 weeks, six months and nine months later for headache frequency and several other outcomes.
Participants who receive physical therapy improve in multiple areas
On the whole, results showed that participants who received physical therapy improved more significantly than those who underwent usual care. In particular, the frequency of their headaches was significantly reduced after 11 weeks and remained at this level up to nine months later. In addition, participants in the physical therapy group reported more significant reductions in headache intensity and duration, as well as neck pain and disability, than the usual care group up to the nine-month follow-up. Finally, this group even reported improvements in their quality of life, flexibility, and perception of the treatment's benefit, and used fewer medications than the usual care group. These findings show that 10 weeks of physical therapy are capable of leading to several benefits in older adults dealing with headaches and associated neck pain and dysfunction. Since physical therapy is a safe intervention that leads to very few side effects, older individuals with this condition should strongly consider seeking out the services of a physical therapist to address their condition and reap the benefits of a proven treatment.
-As reported in the January '17 issue of
The Spine Journal
March 15, 2018
See News
Disclaimer:
The information in the articles, posts, and newsfeed is intended for informational and educational purposes only and in no way should be taken to be the provision or practice of physical therapy, medical, or professional healthcare advice or services. The information should not be considered complete or exhaustive and should not be used for diagnostic or treatment purposes without first consulting with your physical therapist, occupational therapist, physician or other healthcare provider. The owners of this website accept no responsibility for the misuse of information contained within this website.